The heart of Naples is the historic centre, which UNESCO declared a Cultural Heritage site. Its narrow vicoli (alleyways) lead to mysterious churches, catacombs and underground caves. Until today, Naples's old folk culture reveals itself to the visitor among craftspeople, fluttering laundry and shouting fish sellers.
If you wish, I can give you the opportunity to visit the most important and largest archaeological museum in Europe with the most of the findings from Pompeii, Italy's finest painting collections, beautiful monastery yards and a terraced garden, from which you have a breathtaking view on the Bay of Naples.
If you like nativity scenes and cribs and want to see really all about the Neapolitan Crib, you should definitely visit the famous street of the nativity scene makers, in Naples' historic city, the Via San Gregorio Armeno.
After Naples visit, the tour will continue to Pozzuoli, Solfatara.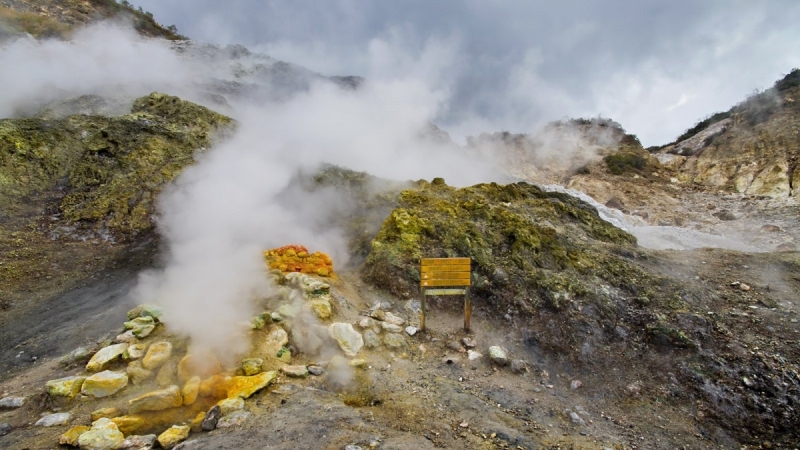 The Solfatara
The Solfatara (from Late Latin Sulpha land, "land of sulfur") is an active volcano located within the city of Naples. Its "Bocca Grande fumarole" is a natural source of water vapor escaping under pressure at 160°C and contains various gases in air that give the characteristic smell of rotten eggs.
The Solfatara has about 40 ancient volcanoes, where you can see the bubbles that come out from the crater in addition to the known volcanic phenomena, such as fumaroles, the mofete and mud volcanoes, forested areas and Mediterranean areas also.
Highlights:
> Free time in Naples' historical centre
> Possibility to visit the archaeological museum of Naples
> Breathtaking view of the Bay of Naples
> Lunch in a local restaurant
> Free time in Solfatara active volcano