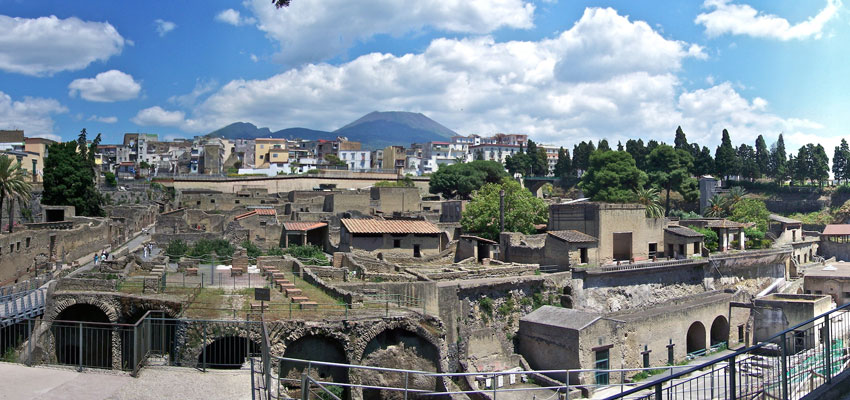 Herculaneum
The tour will take you to Herculaneum, at the foot of Mount Vesuvius, in the comfort and safety of a modern 8 seater Mercedes minibus.
Herculaneum, a short distance from Pompeii. Here, the ruins have been conserved in a better state than Pompeii, due to the fact that they were buried by molten ash. When Herculaneum was destroyed it was a residential town with less commercial areas. Part of the city is still buried today.
After the visit to Herculaneum, the excursion will continue towards Vesuvius from which you will be able to admire the breathtaking view of the bay of Naples. Our driver will take you to the height of 1.000 meters from where you will be able to follow on foot the trek to the crater.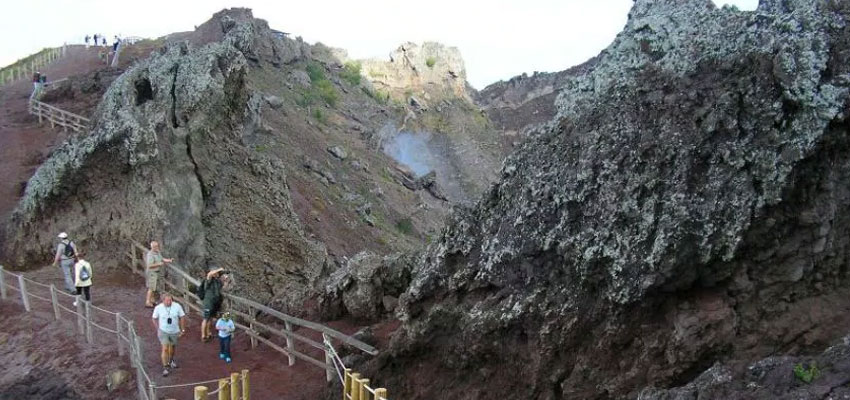 Vesuvius Volcano:
Mount Vesuvius (Italian: Monte Vesuvio, Latin: Mons Vesuvius) is a stratovolcano in the Gulf of Naples. The Vesuvius consists of a large cone partially encircled by the steep rim of a summit caldera caused by the collapse of an earlier and originally much higher structure.
Mount Vesuvius is best known for its eruption in AD 79 that led to the burying and destruction of the Roman cities of Pompeii and Herculaneum. That eruption spawned a deadly cloud of stones, ash and fumes to a height of 20.5 miles, spewing molten rock and pulverized pumice at the rate of 1.5 million tons per second, ultimately releasing a hundred thousand times the thermal energy released by the Hiroshima bombing. The only surviving eyewitness account of the event consists of two letters by Pliny the Younger to the historian Tacitus.
Vesuvius has erupted many times since and is the only volcano on the European mainland to have erupted within the last hundred years. Today, it is regarded as one of the most dangerous volcanoes in the world because of the population of 3,000,000 people living nearby and its tendency towards explosive (Plinian) eruptions. It is the most densely populated volcanic region in the world also.
At the end of the excursion you will be taken back to your hotel or to your cruise ship dock in the maximum comfort of our vehicle and with the professional yet personal touch of our driver
Highlights:
> Free time in old roman city of Herculaneum
> Lunch in a local restaurant
Free time on the Vesuvius Volcano
Optional Entrance fees: per person  Entrance fees may change every year.
> Vesuvio Euro 10,00
> Herculaneum  Euro 18
Please note that EEC passport  holders- under 18 years of age are entitled to free entrance on production of ID.