The incomparable beauty of the Amalfi Coast has enchanted visitors from all corners of the earth and it will also enchant you.
The lush green terraces, suspended over the sparkling sea, the patrimony of art and the architectural characteristics, make it one of the most famous and beloved places in the world. The shore excursions Amalfi Coast from Sorrento offer the opportunity to spend a day in complete relaxation and immerse themselves body and soul in the extraordinary beauties of the coast.
An English speaking driver will pick you up at the port of Sorrento where the excursion will begin.
From the port, passing through the villages of the Surrentine Peninsula and then along a panoramic stretch you will arrive in the enchanting Positano.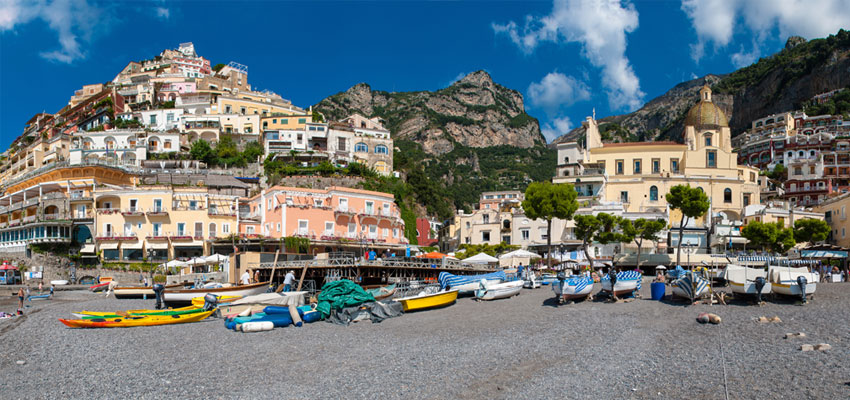 First stop of Sorrento shore excursions: Positano
Built on one of the rock walls of the Lattari mountains, with outstanding ability, it is famous for its narrow streets, custodians of millennial history and events: just going through them, you can discover the charm. Positano is also famous for the manufacture of handmade leather sandals and its pottery, artefacts, that, of course, you can find in the typical shops along the streets.
From Positano, the shore excursion continues to Amalfi, historical soul and main centre of the Coast.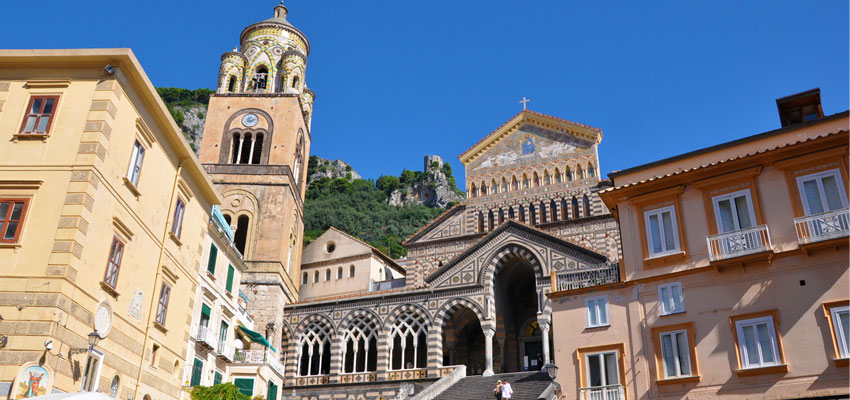 Second stop: Amalfi, the main town of the Amalfi Coast
Between the X and XII centuries it was one of four maritime republics which enjoyed lively contact with the Orient.
At the time, the people of Amalfi, gave birth to small craft activities related to the ancient, but also new forms of economy " centrellari": , namely manufacturers of nails in Pogerola, the coral, the goldsmiths, the blacksmiths. You can find out all this by visiting the narrow streets of the historical centre and the shops of artisans, where you can appreciate the quality of the products that carry on the old traditions. Do not miss a visit to the Cathedral (ninth century) dedicated to St. Andrew and the Cloister of Paradise.
After a break of about two hours the shore excursion Amalfi Coast from Sorrento continues to another enchanting place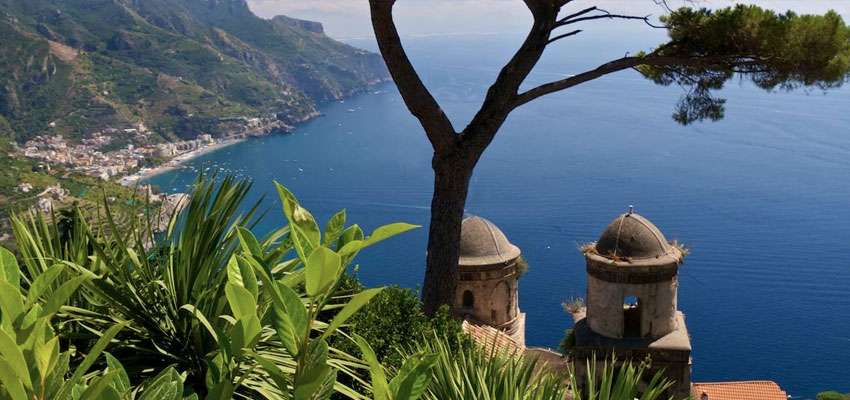 Last Stop: Ravello, the city of the spirit.
At 350 meters high, you can visit Ravello, one of the jewels of the coast. Famous for its tranquil and serene atmosphere, it offers architectural gems of rare elegance, such as the splendid Villa Cimbrone whose viewpoint is called "terrace of the infinite" or the enchanting Villa Rufolo where nature and man's work, contribute to create a highly evocative atmosphere that, every year, surrounds the concerts of the Ravello Festival. Also you can visit the Cathedral, dedicated to San Pantaleone, and the visit to Ravello finishes here.
Our shore excursion Amalfi Coast ends coming back in perfect time to the port of Sorrento to embark again. Your cruise will continue with a pleasant memory of one of the most beautiful tours in the world.
Highlights:
> Free time in Positano
> Possibility to visit the Emerald Grotto in Praiano
> Free time in Amalfi
> Free time in Villa Rufolo and Villa Cimbrone in Ravello